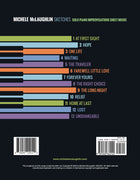 Description
Binding: Spiral Bound
Paper: Heavier stock for easy turning
Released: ©2020
Physical Songbook Includes:
•All 13 songs from the matching album.
•Table of contents
•Information page
Difficulty Level: Songs range from Intermediate to Advanced Intermediate
•4 Intermediate Songs
•9 Advanced Intermediate Songs 
LISTEN TO SONGS FROM THE ALBUM:
SONGBOOK REVIEW by Kathy Parsons at MainlyPiano:
Sketches songbook
Michele McLaughlin
2020 / Michele McLaughlin
13 piano solos/ 64 pages
Sketches is the companion sheet music book for Michele McLaughlin's 2020 solo piano album by the same name. All thirteen pieces from the recording are included and have been transcribed note-for-note to match Michele's improvisations as closely as possible (I proofed the sheet music, so I can vouch for that!). As I write this, the printed books are not yet available, so I'm reviewing the PDF version, which is the same except it's digital (duh!). Individual pieces are also available to download from Michele's website and are ranked by level of advancement there. None of these pieces are what I would call advanced or difficult and none of them are in challenging key signatures. In fact, nine of the thirteen songs have one sharp (1) or flat (3) or none (5).  None of the pieces have any reaches of more than an octave, and there aren't many octaves, either, so pianists with smaller hands will love that!
The scores are well-spaced, roomy and easy to read. Pedaling suggestions are included, as are the metronome settings. There is a nice range of moods and emotional expressions in the music, giving pianists lots of choices to suit their own moods whenever they sit down at the piano or keyboard to play. Both versions of the songbook also include a full-page bio and the cover artwork is a larger version of the striking and colorful album cover. 
Michele's music is appealing to just about any age group and is well-suited to teaching material for students from an early-intermediate level and up. I've worked on Michele's sheet music with several of my own piano students and the response from them is always enthusiastic (students ALWAYS spend more time practicing music that they love!). The music is available from
www.MicheleMcLaughlin.com
. Enjoy!
The titles of the pieces, the keys they are in and the number of pages are:
At First Sight - Key of C minor (3 flats) - 5 pages
Hope - Key of C (0 sharps or flats) - 4 pages
One Life - Key of C (0 sharps or flats) - 4 pages
Waiting - Key of D minor (1 flat) - 6 pages
The Traveler - Key of A minor (0 sharps or flats) - 4 pages
Farewell Little Love - Key of C (0 sharps or flats) - 6 pages
Forever Yours - Key of C (0 sharps or flats) - 4 pages
The Right Choice - Key of C minor (3 flats) - 5 pages
The Long Night - Key of D minor (1 flat) - 4 pages
Relief - Key of C minor (3 flats) - 3 pages
Home at Last - Key of G (1 sharp) - 4 pages
Lost - Key of C minor (3 flats) - 5 pages
Unshakeable - Key of D minor (1 flat) - 6 pages
Kathy Parsons
12/4/2020