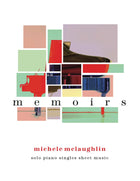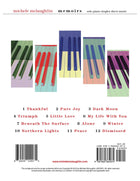 Description
NOTE: Delivered as a PDF that you download and print at home.
Released: ©2019
Digital Songbook Includes:
•All 12 songs from the matching album.
•Table of contents
•Information page
Difficulty Level: Songs range from Beginner to Advanced Intermediate
•1 Advanced Beginner Song
•7 Intermediate Songs
•4 Advanced Intermediate Songs



LISTEN TO SONGS FROM THE ALBUM:  
Memoirs
Michele McLaughlin
2019 / Michele McLaughlin
66 pages / 12 songs
Review by Kathy Parsons
The
Memoirs
songbook is the companion sheet music collection for Michele McLaughlin's 2019 album by the same name. The album is made up of twelve singles released over a period of eighteen months and all twelve are included in the songbook. I thoroughly enjoyed the hour or so I spent playing through the sheet music as the stories the pieces tell are vivid and colorful while expressing a variety of emotions and experiences. One of the most popular pianist/composers on the music scene the past several years, Michele's music is accessible, easy to relate to, and a pleasure to play.
The songbook itself is spiral-bound and the scores are printed on a heavier paper stock that is sturdy but doesn't make page turns difficult. The notation is well-spaced and easy to read, and metronome settings and pedaling suggestions are included. None of these pieces are difficult and pianists at an intermediate level and above should have no difficulty mastering them. None of the key signatures are complicated and the pieces range from 2-8 pages. The book includes a full-page bio and the front and back covers are full-color reproductions of the album cover artwork.
I found an error in the book that you might want to note if you are buying it. In the piece, "Northern Lights," at measures 181 and 182, the left hand should be low F C F (ascending), not G D G. I'd hate for anyone to NOT play this beautiful piece because it sounds wrong there - because it does sound wrong!
Memoirs
is an exceptionally nice songbook and is available exclusively from
www.MicheleMcLaughlin.com
.
The titles, the keys they are in and the number of pages are:
Thankful - Key of C (0 sharps or flats) - 5 1/2 pages
Pure Joy - Key of Eb (2 flats) - 8 pages
Dark Moon - Key of C minor (3 flats) - 2 pages
Triumph - Key of A minor (0 sharps or flats) - 4 1/2 pages
Little Love - Key of G (1 sharp) - 6 pages
My Life With You - Key of G (1 sharp) - 6 pages
Beneath the Surface - Key of C minor (3 flats) - 5 pages
Alone - Key of Bb minor (5 flats) - 3 1/2 pages
Winter - Key of G minor (2 flats) - 5 pages
Northern Lights - Key of A minor (0 sharps or flats) - 8 pages
Peace - Key of C (0 sharps or flats) - 2 pages
Dismissed - Key of C minor (3 flats) - 7 pages