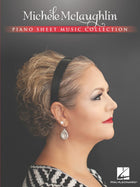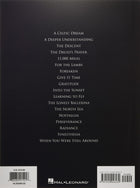 Description
Binding: Standard Spine Binding
Paper: Standard
Released: ©2019
Includes:
•18 popular songs from Michele's collection.
•Table of contents
Difficulty Level: Songs range from Beginner to Advanced
•1 Beginner Song
•7 Intermediate Songs
•3 Advanced Intermediate Songs
•7 Advanced Songs
Included Songs:
A Celtic Dream
A Deeper Understanding
The Descent
The Druid's Prayer
11,000 Miles
For The Lambs
Forsaken
Give It Time
Gratitude
Into The Sunset
Learning To Fly
The Lonely Ballerina
The North Sea
Nostalgia
Perseverance
Radiance
Synesthesia
When You Were Still Around
SONGBOOK REVIEW by Kathy Parsons at MainlyPiano:
Michele McLaughlin Piano Sheet Music Collection
Michele McLaughlin
2019 / Hal Leonard
96 pages / 18 songs
Review by Kathy Parsons
Michele McLaughlin Piano Sheet Music Collection
is a collection of eighteen piano solos from eight of Michele's albums spanning 2006-2017. This collection was published by Hal Leonard, but the pieces are the original transcriptions found in Michele's earlier songbooks, not new ones. Michele has two previous "best of" sheet music compilations,
Reflections
(2005) and
Top 20
(2015), and only one piece from each of those books is included in this one, so you won't be duplicating what you already have. However, if you already have all of Michele's sheet music from 2006-2017 (that's a lot of books!), there is nothing new. It's always nice to have a fresh new sheet music book, though, and this is a nice one!
The songbook is a lot of fun to play and is a good overview of Michele's music. None of the pieces are very difficult, so pianists at an intermediate to early-advanced playing level should have little trouble mastering the music. The pieces range from 2-8 pages and none of the key signatures is too challenging. Quite a few of the pieces have fairly repetitive patterns on the left hand, making them easier to play than they sound - always a good thing! The music is expressive and covers a broad range of emotions. I wish the book was spiral-bound, but Hal Leonard's publications rarely are.
Michele McLaughlin Piano Sheet Music Collection
is available wherever Hal Leonard sheet music is sold, including Amazon, Sheet Music Plus and Michele's website.
The song titles, the keys they are in and the number of pages are:
A Celtic Dream - Key of A minor (0 sharps or flats) - 3 pages
The Descent - Key of C minor (3 flats) - 5 pages
A Deeper Understanding - Key of C minor (3 flats) - 4 pages
The Druid's Prayer - Key of A minor (0 sharps or flats) - 4 pages
11,000 Miles - Key of C (0 sharps or flats) - 6 pages
For the Lambs - Key of C (0 sharps or flats) - 3 pages
Gratitude - Key of C (0 sharps or flats) - 5 pages
Forsaken - Key of D minor (1 flat) - 8 pages
Give It Time - Key of C minor (3 flats) - 6 pages
Into The Sunset - Key of D minor (1 flat) - 4 pages
Learning To Fly - Key of A minor (0 sharps or flats)/ F (1 flat) - 6 pages
The Lonely Ballerina - Key of A minor (0 sharps or flats) - 3 pages
The North Sea - Key of C minor (3 flats) - 7 pages
Nostalgia - Key of D minor (1 flat) - 5 pages
Synesthesia - Key of D minor (1 flat)/ G minor (2 flats) - 7 pages
Perseverance - Key of C minor (3 flats) - 2 pages
Radiance - Key of C minor (3 flats) - 8 pages
When You Were Still Around - Key of Ab (4 flats) - 4 pages
September 2, 2019