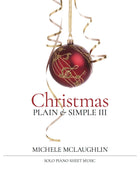 Description
Paper: Heavier stock for easy turning
Released: ©2017
Includes:
•12 songs from the matching album.
•Table of contents
•Information page
Difficulty Level: Songs range from Advanced Beginner to Advanced Intermediate
SONGBOOK REVIEW by Kathy Parsons at MainlyPiano:
Christmas - Plain & Simple III
Michele McLaughlin
2017 / Michele McLaughlin
53 pages / 12 songs
Review by Kathy Parsons
Christmas - Plain & Simple III
is the companion sheet music book to Michele McLaughlin's solo piano album by the same name. One of the most popular pianists around, Michele's music is easily-accessible and fun to play. Her arrangements of Christmas carols are always original, but not "too different." The collection includes eleven arrangements of traditional carols and songs plus one original piece. Most pianists at an upper-intermediate playing level should have little trouble learning this music with a little practice. More advanced pianists will love being able to sit down and play through this book. The book itself is spiral-bound with full-color photos on the front and back covers. The songs are printed on a fairly heavy paper stock, but I didn't have any trouble with page turns. Transcribed note-for-note from the recording by Rebecca Oswald and proofed by myself, these transcriptions are as close to the recordings as possible. They are well-spaced, easy to read, and include phrasing, pedaling suggestions and metronome settings. Most of the timing is pretty straight-forward, but some of the rhythms are different from the "usual" way you hear them, which makes the songs more fun but may require some counting to get them right. The book also includes a full-page bio of Michele in the front. This is a really nice collection of piano solos and I highly recommend it. All of Michele's sheet music is currently available exclusively from
www.MicheleMcLaughlin.com
as physical books, PDF books and downloads of the individual songs.
The song titles, the keys they are in, and the number of pages are:
We Wish You a Merry Christmas - Key of C (0 sharps or flats) - 3 pages
Good King Wenceslas - Key of G (1 sharp) - 4 pages
What Child Is This? - Key of D minor (1 flat) - 6 pages
The Holly and the Ivy - Key of C - 4 pages
In the Bleak Midwinter - Key of Gb (6 flats) - 4 pages
Sing We Now of Christmas - Key of G minor (2 flats) - 3 pages
Jingle Bells - Key of C - 5 pages
Up On the Housetop - Key of A (3 sharps) - 6 pages
Jolly Old St. Nicholas - Key of Ab (4 flats) - 3 pages
Christmas Canon - Key of C - 5 pages
O Come All Ye Faithful - Key of Bb (2 flats) - 6 pages
Peace - Key of C- 2 pages
December 24, 2017