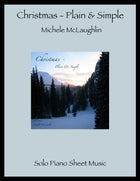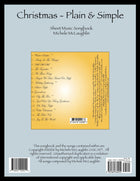 Description
NOTE: Delivered as a PDF that you download and print at home.
Released: ©2006
Includes:
•All 15 songs from the matching album.
•Table of contents
•Information page
Difficulty Level: Songs range from Intermediate to Advanced
•11 Intermediate Songs
•3 Advanced Intermediate Songs
•1 Advanced Song

LISTEN TO SONGS FROM THE ALBUM: 
Christmas - Plain & Simple
Michele McLaughlin
2006 / Michele McLaughlin
15 songs
Review by Kathy Parsons
This is the companion songbook to Michele McLaughlin's 2006 CD
Christmas - Plain & Simple
. It includes all fifteen songs from the CD, which features ten traditional Christmas songs and five originals, accurately and beautifully transcribed by Rebecca Oswald. The songs are playable by intermediate through advanced players, and the arrangements are full and fun to play. Oswald's transcriptions are always clear, clean, and spacious so that they are easy to read and look relatively simple. I love McLaughlin's CD, which makes this collection even more fun to play. Most collections have at least a few songs that either don't work very well or just aren't appealing, but all fifteen of these songs are keepers. Sure to be a favorite sheet music collection for many years - and the original pieces can be played all year without raising anyone's eyebrows! I highly recommend this book. It is available at
michelemclaughlin.com
.
The contents of the book are listed below in the same order that the songs appear on the CD. I've included a difficulty ranking with 1 being the easiest of McLaughlin's pieces and 5 the most advanced. I have also indicated what key the pieces are in and how many sharps or flats there are in the key signatures.
Winter Solstice - Key of A Minor - Level 4 - 6 pages
Away In the Manger - Key of C (no sharps or flats) - Level 3 - 4 pages
Still Still Still - Key of C - Level 3 - 3 pages
The Toymaker - Key of F# (6 sharps) - Level 5 - 4 pages
We Three Kings - Key of C Minor (3 flats) - Level 3 - 3 pages
Angels We Have Heard On High - Key of C - Level 3 - 3 pages
Holiday Gathering - Key of C - Level 3 - 5 pages
Silent Night - Key of C - Level 3 - 3 pages
Greensleeves - Key of F Minor (4 flats) - Level 4 - 5 pages
By The Fire - Key of C - Level 3 - 4 pages
God Rest Ye Merry Gentlemen - Key of A Minor - Level 3 - 3 pages
O Holy Night - Key of C - Level 3 - 4 pages
A Celtic Christmas - Key of A minor (no sharps or flats) - Level 4 - 5 pages
The First Noel - Key of C - Level 3 - 4 pages
Joy To the World - Key of C - Level 3 - 4 pages